Услуги и Консултиране
RSS Feed
subscribe RSS-Feed
ineo 751: Стабилно изпълнение с доказана производителност
Patrick Klaus, the DEVELOP product manager responsible for the ineo 601/751, explains why it is ideally suited to time-critical environments: "This printer helps to improve productivity in at least two ways: first, it runs reliably, even in highly demanding printing environments; second, it is extremely easy to operate with no complex controller interface. That saves time and money. The reliability of this printing system's performance is based on tried-and-tested technology but its authentication, encryption or data-security technology is very much state-of-the-art."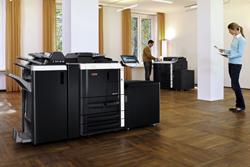 Sophisticated technology
The significant difference between the ineo 601 and the ineo 751 is in the printing speed: 60 and 75 ppm. In other words, both printers are suitable for high-volume office or small-scale production environments. Incidentally, the duplex function runs in both cases at the full rated speed. But since speed is not everything, even in time-critical environments, the ineo 601/751 is more than just a fast printer. A number of user-friendly features ensures that the pre-print process also runs quickly and smoothly. The full-colour display is nice and large with useful features such as thumbnail previews. There is a USB slot at the front of the machine for printing direct from a memory stick. When the toner runs low, the cartridge can be replaced on the fly with no need to interrupt the printing process. Since this printer is actually a 4-in-1 office communication system, it is only fair to mention the automatic copying, convenient scanning (e.g. scan to e-mail) and optional fax functions, which can all help to boost productivity in the document production process.
Finishing in style
Printing large numbers of documents fast is only half the story. Complex documents such as brochures, financial reports or training manuals also need finishing as well. To improve productivity in a time-critical workflow, high-performance inline finishing functions are essential. Here, the ineo 601/751 comes with a number of interesting options that ensure a highly efficient post-print process, e.g. booklet-making, letter-folding, corner stapling, hole punching, Z-folding and pre-printed cover sheet insertion.
Reassuring security
Although data-security functions are commonplace on today's PCs, it is surprising how many public- or private sector organisations take no precautions to safeguard highly sensitive data on their networked printers. Security-minded organisations will be relieved to know that the ineo 601/751 can be equipped with a variety of effective data-security options. Privileged access can be granted to certain individuals or workgroups and user access restricted at a functional level. Other data-security options include marking specific print jobs as confidential to prevent unauthorised access, erecting an internal firewall to block hackers' attacks, encrypting PDF printing and scanning, and introducing password-protected access to the system's user boxes, which provide individual storage space on the HD.
Cost-cutting tools
Networked printing environments can be difficult to administer and supervise. For example, how can an organisation's print costs be broken down and allocated to individual users or workgroups? Here, DEVELOP's optional Enterprise Suite software offers network administrators a number of easy-to-use tools that allow each and every networked ineo/ineo+ system to be centrally managed. In practice, this means that, for example, the access rights, volume restrictions and counter readings for each ineo 601 or 751 can be administered from a single workplace. This is an important tool in ensuring users are accountable for what they print or copy, and thus keeping document production costs under control. By simplifying the administration process, the optional Enterprise Suite tools also save a network administrator time, and the organisation he works for money.

назад